Pacific Dance Artist in Residence
The Pacific Dance Artist in Residence program is an exciting dance residency offered to an established dancer, choreographer, or director of Pacific Islands descent with a proven track record of working in a community and or professional theatre context. It is an annual event that started in 2009. Past artists have included: Steve Laufilitoga Maka (Uvea), Justin Haiu (Youth dance), Tuiahai Tuiafitu (Tonga), Julia Grey (Nesian dance) in Auckland as well as Tuaine Robati (Cook Islands) and Tupe Lualua (Samoa) in Wellington. The residency allows senior dance artists to work in a community to deliver dance forms and share their skills with local communities.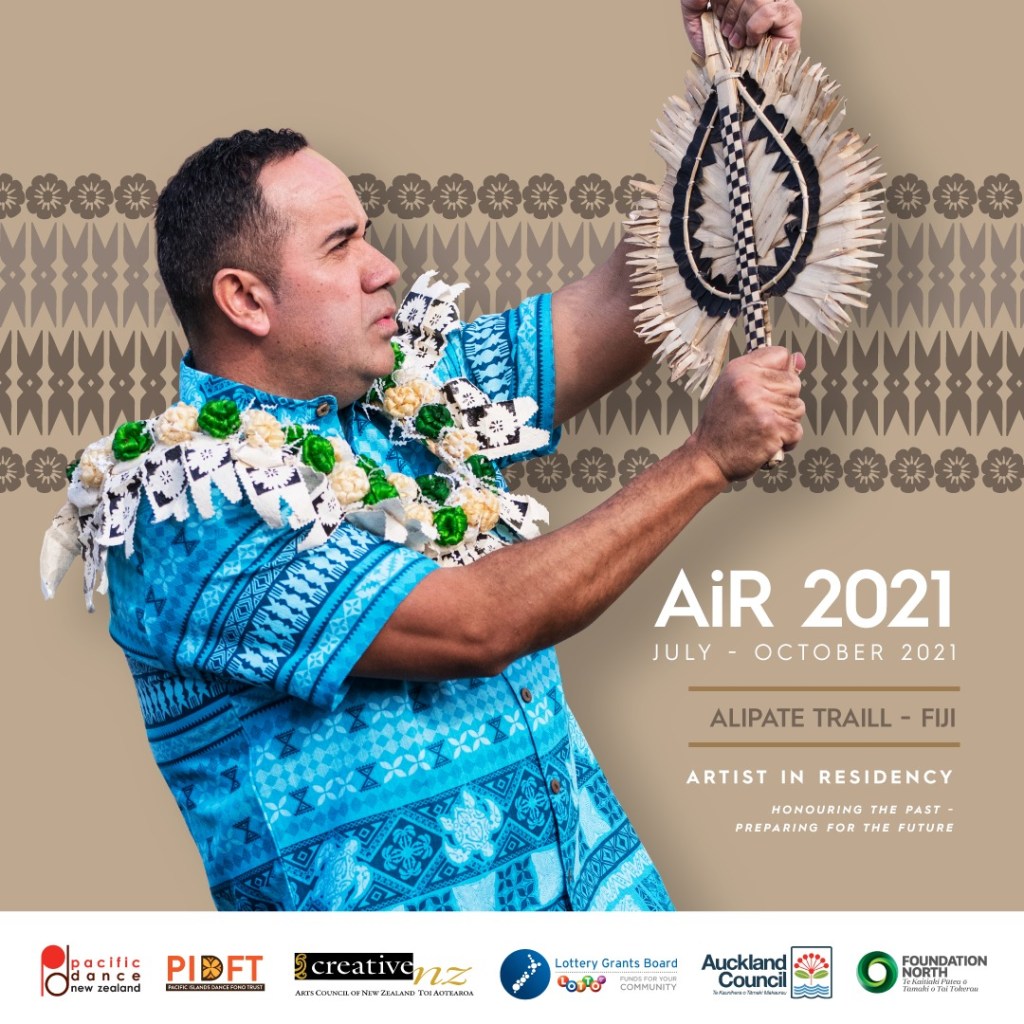 ARTIST IN RESIDENCE: ALIPATE TRAILL
'HONOURING THE PAST – PREPARING FOR THE FUTURE'
Pacific Dance New Zealand has selected its Artist in Residence for 2021, West Auckland resident and Fijian heritage choreographer and artist Alipate Traill.
The primary audience for our 2021 residency will be children, notwithstanding our usual audiences.  Children will immerse themselves in the experience and wisdom from Traill in Fijian dance, language, values and knowledge that will strengthen their foundations in culture.
Born and raised in Fiji and attesting his knowledge and skills in Fijian itaukei culture to his Bubu Savaira, Alipate has spent his life totally immersed in showcasing Fijian culture, history and stories through the performing arts.  Studying in Hawaii at the Brigham Young University in Political Science, Alipate refined and extended those skills with costuming, theatre and culture presentation skills at the renown Polynesian Centre.
Alipate says "Modern day Fijian kids in the urban centres of Fiji are experiencing a major loss of culture. I hope to inspire them to turn it around and take action as they are there in the motherland where cultural knowledge and resources are abundant."
Aotearoa is home now for our artist and his young family and he has continued his passion for the performing arts with the establishment of the Te Mana Academy.  It is through this platform he inspires the young to learn about their Fijian identity to embrace it, be proud of it and love it.  The academy has grown in strength in the last few years from its base out at the Corbans Estate and today Alipate and the academy holds workshops and performances throughout Tamaki Makaurau, motivating, inspiring and uplifting young New Zealand born children and their families to celebrate and showcase their beautiful and unique Fijian heritage.
One cannot be oblivious to the changing cultural landscape with migration, media, education and society where richly diverse cultural and familial traditions and the intergenerational wisdom that is imbedded in them are disappearing.  The residency will teach children to feel the rhythm and beat of Fijian 'Meke' and to feel joy and pride in who they are.  The immersive workshops and performances will show them to embrace the oral traditions of storytelling through dance and performance and develop a respect not only for their unique culture but also for one another.
'I hope to raise awareness that it is important for our children to have a firm grounding in their cultural heritage. With the onslaught of social media and so many other negative influences, our children are suffocating with info overload and the pressures to mimic what they perceive is reality is often false portrayals of life. Having a foundation of cultural knowledge and values will empower them to decipher reality from fiction making them strong, confident and proud. Dance is my medium for conveying this message to the younger ones, hence my theme " HONOURING THE PAST – PREPARING FOR THE FUTURE"  says Alipate.
During the 10-week residency the artist will engage and network with community, primary and secondary schools as well as tertiary dance schools in both Auckland and Wellington.
During Fijian Language Week, Albert Traill and performers from the Te Mana academy will be at The Auckland Central Library for dance and storytelling workshops in addition to a display of Fijian costume, art and artifacts on the ground floor.
The residency will launch on Tuesday 27th July 2021 at the Youthline Centre in Papatoetoe which signifies Te Mana extending its reach out into the community in South Auckland.  The residency will conclude during Fiji Language Week on Friday 8th October, with a free evening show and the public and community will be invited to celebrate.
The residency will be delivered at both Youthline Manukau and Pacifica Arts Centre and is supported by Creative New Zealand, Foundation North, Massey-Henderson Local Board and  Auckland Council.
Vinaka Vaka levu.
Pacific Dance NZ Artist in Residence Program
Week Commencing 26th July:
Free Public Workshops at Manukau Youthline,  Papatoetoe
Tuesdays: 6-8 pm
Free Public Workshops at Pacifica Arts Centre, Henderson
Wednesdays: 6-8 pm
Registrations recommended. Click FREE Registration.
Tuesday 27th July, 4.30 pm:
Papatoetoe Youthline, 4.30 – 5.30 pm: LAUNCH (Closed Event)
6– 8 pm Dance Workshop (FREE)
Saturday 2nd October, 11 am – 1 pm:
Auckland Central Library Dance & Costume Workshop (FREE)
Fiji Language Week: 3rd – 9th October 2021
Thursday 7th October: 6-7.30pm , Auckland Central Public Library, Talanoa
Friday 8th October: 6-8pm , Artist in Residence Final Public Show (FREE)
For media enquiries please contact
Kelly Geater at Elephant Publicity
Phone: +64 27 254 4094
For PDNZ enquiries, please contact
Joanna Bourke at Pacific Dance NZ
E: marketing@pacificdance.co.nz
Phone: + 64 21 356515