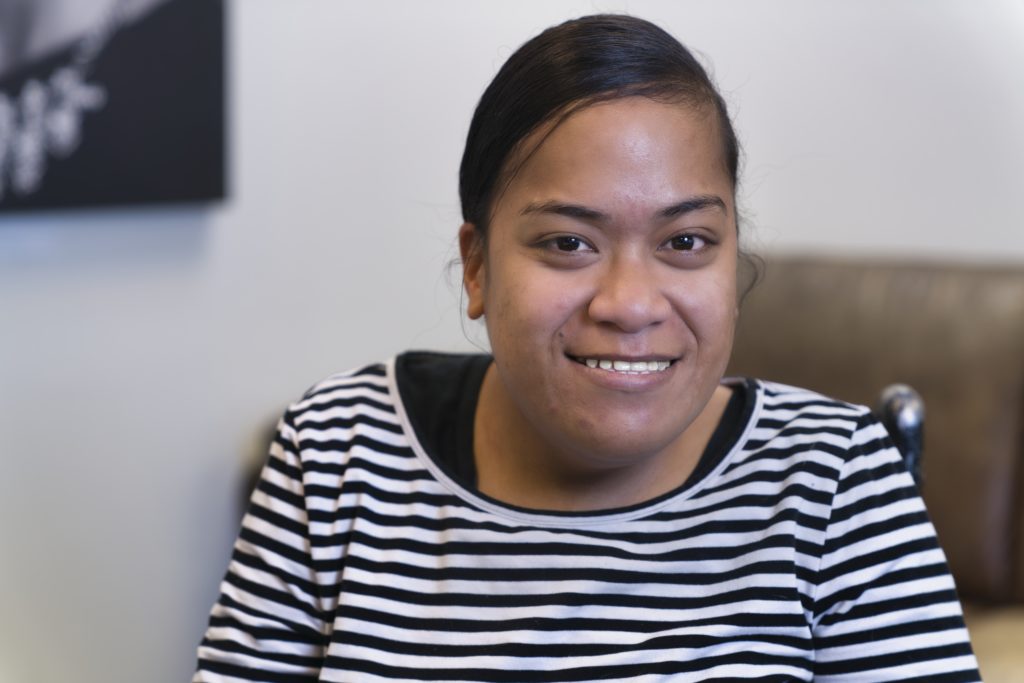 New dance reclaims old worlds
Lavinia Lovo has a question.

Pacific peoples of all ability face challenges, she begins.

So why are some identifying by physical disability first, Lovo asks, not cultural identity like most others Pasefika?

"We have to stop identifying only by disability and start with culture," she says to an audience of around 80 people, in July. 

Tightly-circled, that call was made at an event at Papaptoetoe town hall, hosted by YesDisability, PHAB Pacific and VakaTautua.

"Without that identity, the culture is lost, and the message is lost." 

Born with spina bifida just before the new millennium, Lovo is young enough as a youth leader to easily have a decade's work ahead of her, but old enough to have been growing up when dial-up screeching was still a part of daily life. 

A time when disability awareness had decades of awareness, advocacy, and activism among mainstream organisations. 

But was still low among Pasifika communities in Aotearoa. 

From a seemingly shy Samoa-Tonga 2009 scholarshipper at Tamaki College , Lovo used her hands to trace a curving arc across disability circles, pulling many others with her on a bright mission of empathy, hope, and challenge.

Following high school, Lovo worked with PHAB in 2013 to found an all-ability dance group they named Pasefika Phusion.

By 2018, working with Pati Umaga, Phusion were catching the eye of then disability minister Carmel Sepuloni at the 2018 Vodafone Pacific Music Awards. 

Tight circles had become wide worlds, ones that bring challenge.

She's not afraid of challenges.

In May this year Lovo joined criticism of authorities for charging legal fees to handle disability claims, terming it "disgusting". Outspoken, yes, but also someone who's work hard behind-the-scenes. 

She's led Pasifika awareness, contributed to many policy sessions, community documents, and leadership forums. 

Lovo is also a go-to name for awareness in other areas, too, such as vaccine fears, or alcohol abuse, lending her voice to those suffering from feelings of being overwhelmed, stressed, depressed.

Along the way, in 2017, she started setting up her own liasion organisation, helping Pasifika peoples cross bridges from isolation to get the help they need. Including explain Pasifika concepts to easily confused palagi counsellors, health workers and sundry officials.

Lovo stayed alert to new circles, news ideas, news possibility, as a way of leading examples of what can be possible.

Just five years later, Tōfā Mamao Collective is already a well-known name, with hubs opening in Wellington and Christchurch last year, after partnering in Auckland with leading outreach groups such as YesDisability.

Embracing new circles of arts, Lovo found herself circling back to old questions long simmered upon, such as a disability-first-or-only identity.

Why not islands, first, or as well?

Two, after all, are better than one - a point made at the start of the day at Papatoetoe town hall by Reverend Neli Alo. 

Starting with Ecclesiastes chapter 4 verse 9, Reverend Alo noted that 'two are better than one' when it comes to people meeting life challenges. 

Asked to speak, Pacific Dance director Iosefa Enari picked up that point.

"The reverend talked about the power of two and this is indeed a partnership between PDNZ and PHAB Pasefika," he said, on behalf of the board of directors. 

"Dancing is two things happening - the physical and the spiritual."

Enari and Lovo had already worked together once before and, for Enari, it would have been easy to circle back and celebrate their earlier collaboration – but he, too, was thinking of new circles.

Tracing back from their own dance history, PDNZ invited their 2018 Choreography Lab Resident Steev Maka, from Uvea, as a new mentor for Lovo, to work towards the launch of a new dance piece next month.

Maka brings his own vast circle of Pacific arts.

Travelling the region as far afield as Hawaii, Maka spent most island time with his long time partner Ebonie Fifita, of Tongan heritage.

Meeting at the Pacific Arts Festival in American Samoa, then returning to their home islands, Fifita was intrigued by seeing so many Pacific Islanders in modern art forms previously thought of as mostly western.

Maka was one of the first to respond.

He and his team got funding to travel to Tonga, twice, to work with local performers led by Fifita and she joined him in New Caledonia for nine months to work on an opening piece for the 8th Pacific Arts Festival, held there in 2000. 

They married in late 2013. 

In 2019, Fifita suggested they give birth to their child in her other home, New Zealand - only to find themselves locked down the next year, along with a team of five million. Maka gained residency, anchoring a duo with already rich regional resources in Aotearoa.

Surprisingly - or not, given the magic of the Pacific - it's not the first time the Lovo dance group will have input from someone with Wallis and Futuna heritage. 

Samoan education student Kalani Careace Aaron Mose worked with Phusion 2.0 before starting his studies, telling the Ministry of Pacific Peoples that "These things are key to upholding and preserving our Pacific identity and culture." 

Back in Papatoetoe, upholding also means upstanding.  

Lovo starts with a polite request.

Then polite demand.  

"Get up - up! up, up .. "

Hesitantly, the audience of around 50 rise to their feet, another 30ish already standing inside the historic Papatoetoe town hall. 

"You two, too, up!"

Ms. Lovo swivels, zooms forward, all fivish feet of her. As she has already done for the last few hours; across glossy wood floors.

Across a fine mat, too, if need be.

Seeing her coming, two members of her team gather courage, rise to their feet from the front row.  

Swivelling back, hands over head clapping - Ms. Lovo moves into that, and soon enough an audience of 80 finds itself clapping, twirling, dipping, stepping, focused, and free. Living outside the usual urban urgency, for a blessed moment in time.

Able, and able alike.

This?

Normal day's work for a woman whose wheelchair is but a side-part to her skills. And one of her oldest passions - powers of dance.