---
Scroll down for our Festival Shows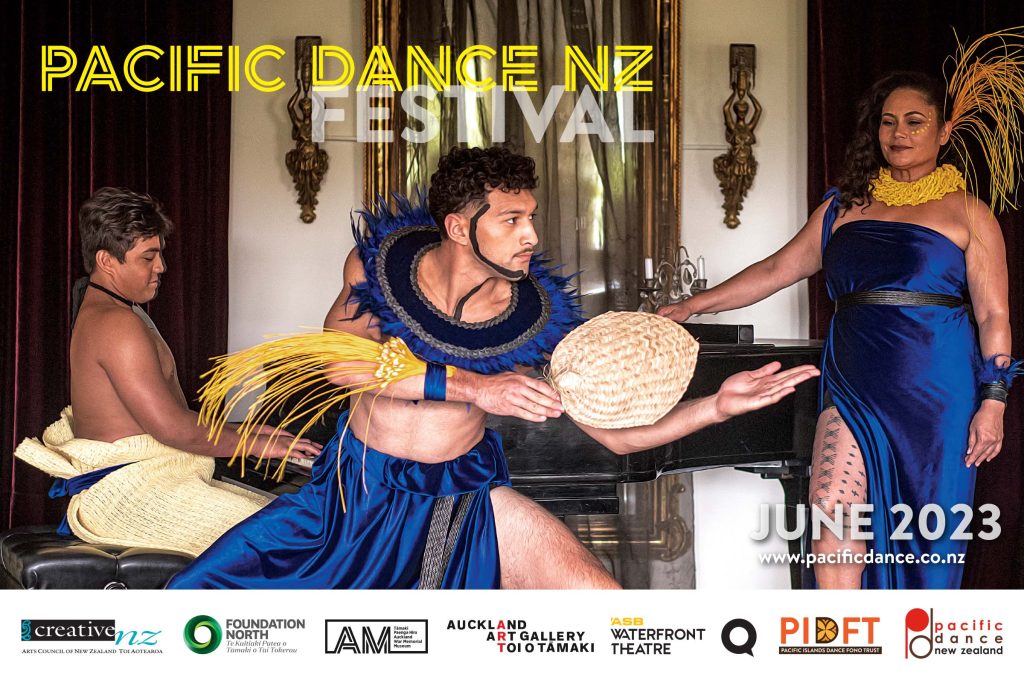 1st– 16th June 2023
'Ua vela le fala' (Samoan translation: 'the mat is hot')
The stage is set for 2023 Pacific Dance Festival
March 10, 2023 (Auckland). After three years of absence from our Auckland theatre scene, the Chair and Board of Trustees of the Pacific Islands Dance Fono Trust are proud to announce the annual Pacific Dance Festival has returned to our stages. Our 2023 festival programme represents our international partnerships which has been a direct product of pre- and post-pandemic engagement celebrating diversity and richness that the Pacific brings to the dance and arts landscape of Aotearoa.
Filled with aroha / alofa / 'ofa (love) the team at Pacific Dance New Zealand have curated a programme of full length works, workshops, seminars, screenings, fashion shows, matinees and our anticipated Moana Showcase that will be featuring the Annual Choreographic Lab showing of emerging Aotearoa based Pacific choreographers. International, local, emerging, established, contemporary and heritage artists from across Moana Nui a Kiwa bring to the mat their stories, their worlds and their mana to suit and enrich the journeys of our diverse audiences.
Led by Pacific Dance New Zealand director, Iosefa Enari MNZM, this year's festival is another development of an already established event on the arts calendar. "This year is about bringing together Pacific artists we have always respected and supported from afar. This is our opportunity to bring to our loyal audiences other dimensions of Pacific dance practices." says Enari. "I am thrilled that our performers are coming from Germany, Samoa, Brisbane, Sydney and Fiji. I am also humbled we are engaging with some of New Zealand's top performance venues, Q Theatre, ASB Waterfront Theatre, Auckland Arts Gallery and the Auckland War Memorial Museum to name a few." The mat is prepared and ready.
Pacific Dance NZ will hold its festival opening on Thursday 1st June at the ASB Waterfront Theatre in Central Auckland with the NZ Premiere of 'MANU MALO' direct from Hamburg, Germany by Ta'alili featuring a star-studded cast. The show will run for 3 nights and will include a school's matinee.
Our eclectic international offerings this season feature:
KARUL Projects from across the Tasman which focus to increase First Nations' voices, visibility and stories through a master workshop and talanoa.
S.P.A.C.E (Samoa Performing Arts and Creative Excellence) from Apia with Pacific Contemporary Dance workshops. The directors are here as guests of the festival.
RAKO Award winning dance director and climate change warrior Letila Mitchell returns with her Suva based Rotuman troupe with a full length show.
HIKULE'O by TAUTAHI and Tongan dance master and academic Sisi'uno Helu brings her full-length traditionally inspired contemporary dance show about Tongan legends with an outstanding cast of Sydney-based dancers.
Our MOANA showcase is shaping up to be another locally anticipated presentation which for the first time will be in Rangatira at Q Theatre. It will feature several works including those that have been developed at our 2023 Choreographic Lab and community collaborations.
To acknowledge our strategic partnerships with various venues the following additions to our programming for the festival include:
Auckland Art Gallery Toi o Tamaki – hosting Open Air Rehearsals (27th May, 3rd, 10th Jun) and Dance-On-Screen on Sunday 11th June.
To Tamaki Paenga Hirea Auckland War Memorial Museum – an evening show with fashion designer Beau Louis Takapu on Tuesday 12th June in the Te Ao Marama South Atrium.
By popular demand our FREE community workshops with local heritage artists will also be offered during the festival.
Our complete programme for our 2023 June festival is now available here.
Follow our social media feeds (Facebook, Instagram, YouTube and Tik Tok) for updates.
Ua vela le fala…your mat is ready for you to take your seat.
Click on images for show information and tickets